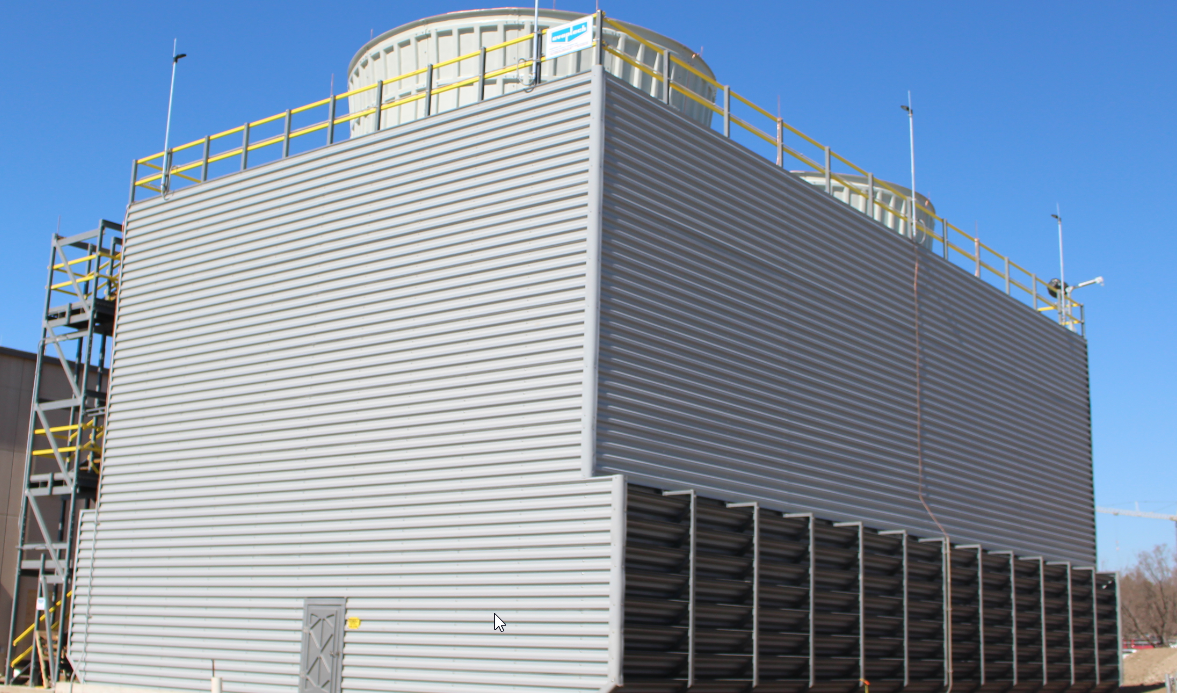 The FM Approved Series ES and ESP evolved from the proven EvapTech Series EC product line. These products share high quality fire-retardant fiberglass pultrusions with proven structural integrity and a design methodology confirmed by FM Approvals Standard Class 4930 for resistance to the most extreme natural hazards.
EvapTech is a participating manufacturer to CTI Standard STD-202 (Publication of Test Results). The EC, ES and ESP product lines share the same functional heat transfer and drift eliminator component designs, although the ESP component materials are customized. The use of these heat transfer and eliminator designs assures owners reliable thermal performance and low drift rates.
FM Approved Series ES/ESP Downloads and Links
Typical Series ES/ESP Comparison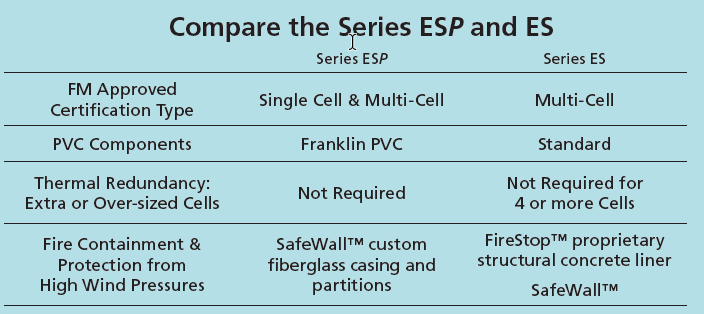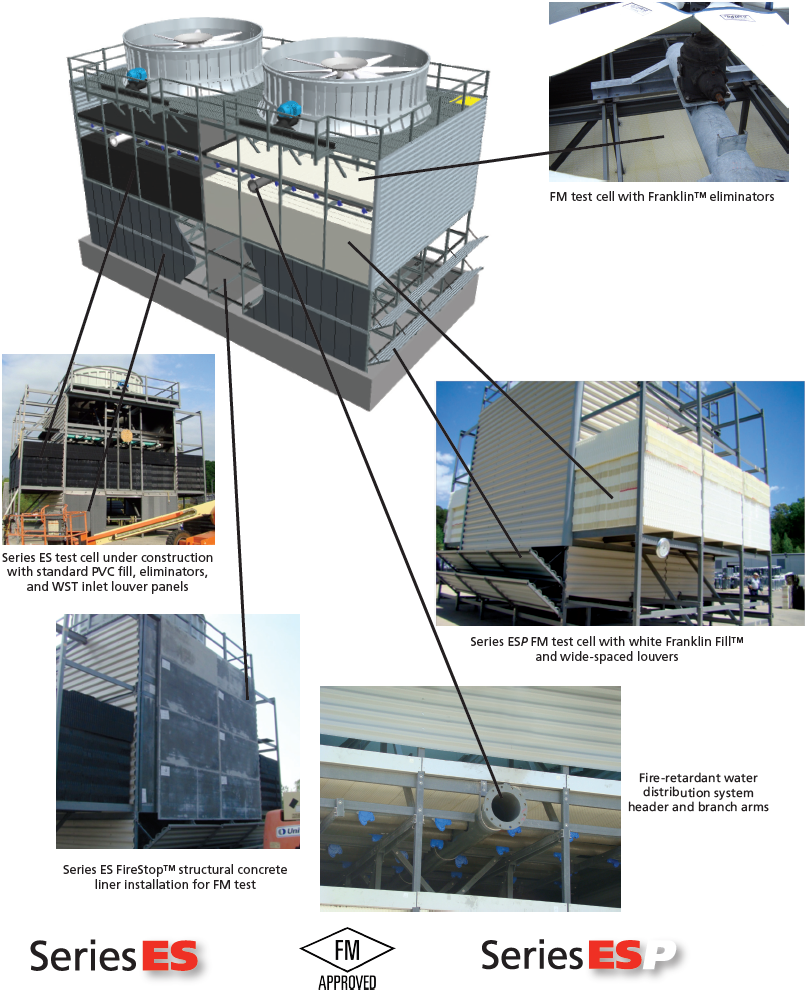 Series ES/ESP Tower Materials & Design
The vast majority of new counterflow towers are constructed of fire retardant fiberglass because of its high strength and fire/corrosion resistive properties.  Fire retardant fiberglass is especially appealing when high strength and resistance to flame propagation are important.
These two properties ensure that an FRP structure can meet the challenges presented by natural hazards and answer the call from FM Global to reduce interuption of operations caused by these events.
EvapTech's Newton, IL facility manufactures these pultruded parts, allowing  superior quality and lead time control.  Learn more about EvapTech manufacturing here.  Treated wood and concrete structures are also available materials.  Click on the materials below for more information and contact EvapTech for guidance on the best material for your particular application at newtowers@evaptech.com.
Series ES: Pultruded Fiberglass
The standard of the industry and the material demanded by most new cooling tower purchasers. But not all FRP frames are created equal, in design or material quality.
Pultruded FRP 's strength is unidirectional and our superior designs utilize line-of-action force distribution of wind and seismic loads.
EvapTech is the only cooling tower company to manufacture our own pultrusions in our state of the art factory in Newton, Illinois. This enables EvapTech to design component strength properties to match the requirements of our frame layout, all of which is verified by rigorous component physical testing activities.
Customers should demand quality fiberglass components that are made in the U.S.A.
Counterflow Tower Fill
The Series ES and Series ESP utilize the same proven high efficiency reduced fouling vertically offset flute fill as the EC Series product line, but with a twist. In addition to now being FM Approved in this product arrangement, EvapTech introduces Franklin Fill™ custom PVC fill products. The fill, with a flame spread rating of Zero when tested in accordance the ASTM E-84, has revolutionized the meaning of an FM Approved fiberglass cooling tower.
Franklin™ fill is at the heart of the Series ESP product line that results in the first ever PVC filled fiberglass cooling tower to achieve FM Approval in the coveted single-cell category. This breakthrough technology resists the propagation of flame and allows each cell of the tower to maintain the required 75% of design capacity in the cell of origin. Eliminating the potential need for thermal redundancy and greatly reducing the exposure to loss due to fire.
Drift Eliminators
EvapTech's DriAir80 drift eliminators represent the BACT (Best Available Control Technology) in cooling tower drift eliminators, limiting drift rates to as low as 0.0005%.  
In addition to the standard PVC used in the Series ES product line, Franklin™ custom PVC drift eliminators combine with Franklin™ fill products to revolutionize FM Approved cooling towers in the Series ESP product line. No longer do you have to settle for simply containing the spread of fire, the E-84 zero flame spread rating results in a product that will continue to operate immediately following a fire event.