EvapTech is proud to introduce the first ever industrial-scale, fiberglass-framed, modular cooling tower—the Meridian

®

 series. Unlike competing products, the Meridian

®

 series maintains the superior thermal performance and longevity of fiberglass while slashing lead time and cost. This innovative design is primarily factory-assembled into modules prior to shipment, reducing the number of parts that need site assembly compared to standard steel towers. The result? Faster installation, greater site safety and far better value over the lifetime of the product.
EC Meridian

®

 (ECM)
The base model Meridian® features a pressurized water distribution system, PVC fill, high-efficiency eliminators, water- and sight-tight (WST™) louvers, premium mechanical equipment, basin flexibility, and easy maintenance access. With the ECM, you can customize the fill to your project's specific thermal and water quality compliance needs. The entire Meridian® series is available in a range of single-cell sizes and fully capable of multi-cell installations to meet most applications.
ES Prime Meridian

®

 (ESPM) — FM Approved
Fortified with FM-approved features, this model eliminates the need for a fire protection system and keeps equipment operational after a fire, hurricane, tornado or seismic event. Many customers experience lower insurance premiums and the peace of mind they have a high-quality product that's been through the rigors of FM Approvals testing. Modifications for the ESPM are mostly limited to substituting zeroflame spread Franklin Fill™ and special drift eliminators.
For more details, please see the Meridian® Series Brochure.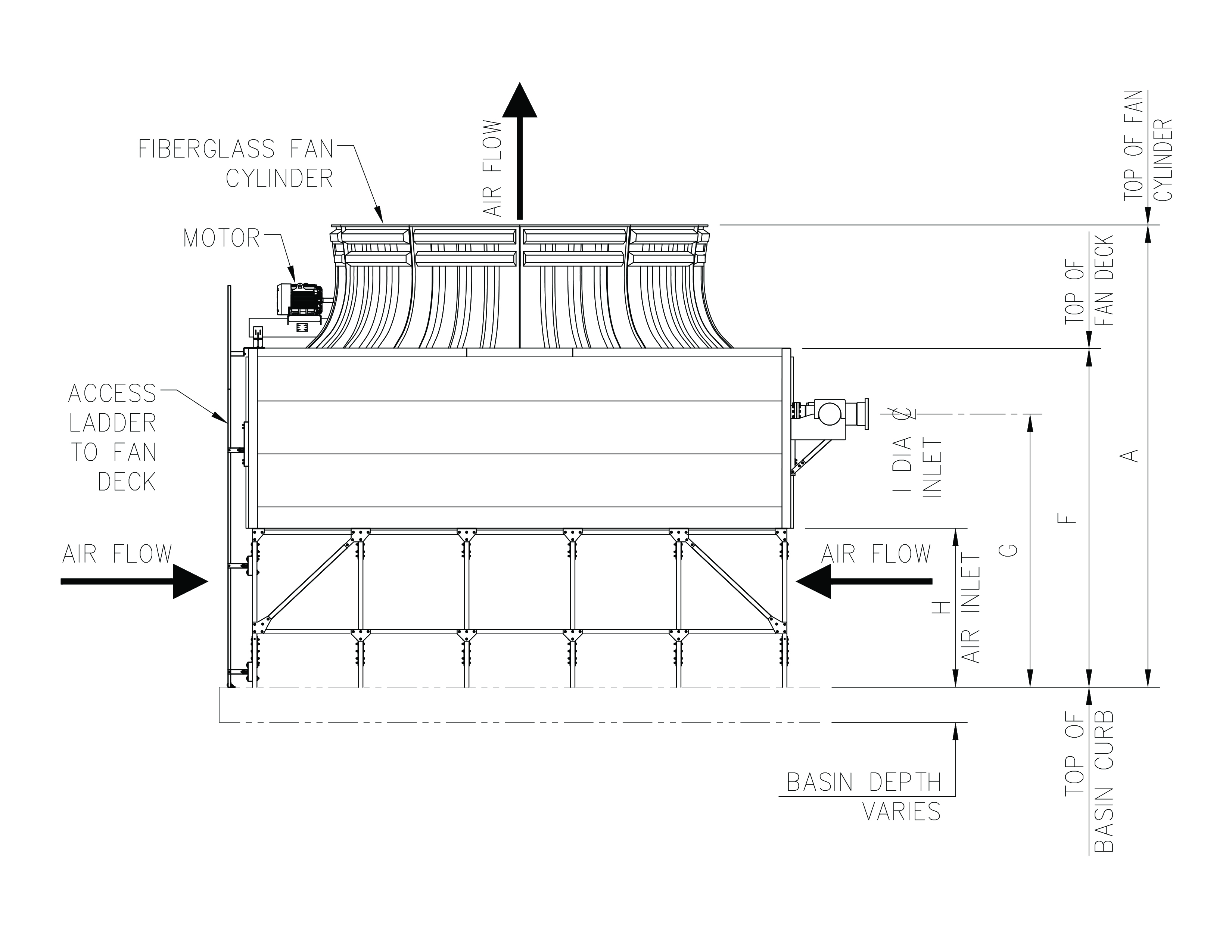 Industries & Applications
Data centers
Light industrial
Airports
Universities
Hospitals
And many more!
KEY FEATURES
Pressurized Water Distribution System
The exterior manifold maintains a single reliable connection per cell
Identical systems across modules ensure even water distribution and peak thermal performance
Lab-tested SFF nozzles maximize water coverage
Custom Fill & High-Efficiency Eliminators
Bottom-supported PVC fill media enhances the cooling towers' structural integrity
Customize fill for alternate water qualities
DriAir™ 80 drift eliminators limit drift rate to < 0.0005% of the circulating water flow
Water- & Sight-Tight (WST™) Louvers
Easily removable for basin access
Sight-tight design keeps sunlight out, preventing biological growth
Keeps water in and dirt/debris out
Premium Mechanical Equipment
Best brands available for associated fans, gearboxes, driveshafts, motors, and more
Features the same components used in our industry-leading counter and crossflow towers for 15+ years
Easy Maintenance Access
Access equipment via the EvapStack™ door, fan
deck ladder and elevated fan deck tie-off
Integrated, patent-pending, elevated engineering
tie-off point in each fan cylinder segment
Optional louver access door for easy basin inspection
Optional grated walkway for access to inner components
Optional fan deck handrails
FRP-Framed Modules & Leg Sets
Fiberglass frame provides high corrosion resistance compared to steel modular options
Structure designed to meet the most stringent of wind and seismic loads
Lightweight structure provides for safer onsite installation
Basin Flexibility
Tower optimally installed on new or existing
concrete basins
Fiberglass or stainless steel basins also available
Optional FM Approved Features
Eliminates the need for a fire protection system
Keeps equipment operational after a fire, hurricane, tornado or seismic event
Zero flame spread Franklin™ Fill and drift eliminators
Safewall™ hardened casing system